Free Subscription To the Freshest Health News And Tips
Hide this
7 Ways Curcumin Naturally Makes Skin Beautiful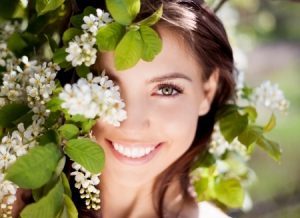 Curcumin, an active compound found in the ancient Indian spice turmeric has long been used for its amazing health properties and amazing benefits for skin.

Studies show that Curcumin that is responsible for the orange colour in turmeric can reduce the risk of heart attacks, delay the onset of Type 2 Diabetes, ease joint pain and even help with improving memory in dementia patients. That's before you get to the amazing fact that it can also slow or even stop the growth of cancer cells.
New research is showing that Curcumin – found in turmeric, has many amazing health properties for protecting the skin. Here are just seven…
1. Delays the appearance of ageing
This is massive good news for anyone wanting to stay looking younger for longer. The potent antioxidants found in turmeric, including Curcumin have been found to protect cells against free radical destruction.
Free radicals and oxidative stress have been recognised as playing a role in the ageing process and antioxidants can play a major role in prevention.
An early study from 2010 found that Curcumin is a useful anti-aging substance as it doesn't only potentially reduce the risk of many of today's diseases along with improving the health status of the elderly due to its anti-inflammatory properties. A few studies have shown that topical application of turmeric to the skin may help with delaying the appearance of aging on the skin.
In one study, the researchers applied a cream with both turmeric and niacinamide (a form of Vitamin B used in many face creams), or a cream with just niacinamide to groups of women aged 40 – 60. After eight weeks they found those using the cream with both turmeric and niacinamide experienced showed a 15% improvement in fine lines and wrinkles, when compared to those using the cream with the niacinamide alone.
It makes sense therefore that applying skin cream with turmeric in may help to support and provide anti-aging properties to the skin.
2. Helps with wound healing
Researchers in 2011 confirmed that using a topical Curcumin solution on burn wounds is just as effective as using a standard drug on burns such as silver sulfadiazine.
The following year in 2012, researchers tried Curcumin patches on wounds and they found that not only did it improve healing time, it also helped the skin to repair itself while encouraging the production of collagen and tissue regeneration.
Turmeric has been used as a means of healing wounds for a long time, everything from infected wounds to mouth inflammation and often in the form of a turmeric salve or paste.
Research from 2005 confirmed that turmeric is as effective as honey for healing wounds, and it can also help skin to heal faster than simply using the application of either substance. While a study from 1999 comparing turmeric with coconut oil found that turmeric was more effective at helping wounds to close and heal.
3. Protects from sun damage
In one animal study from 2009,  researchers applied turmeric extract to damaged skin exposed to long-term, low-dose ultra-violet radiation. The results showed turmeric's effects on the skin and along with scientific evidence, that there is good proof that it can help us to look younger.
Two years later, one study looked at how turmeric extract was blended into a skin cream and then applied onto the skin for six weeks.
The study's results indicated that the turmeric cream provided protection against the sun while also improving the skin's ability to naturally moisturise itself. Researchers have even suggested at the possibility of incorporating the extract into sunscreen formulas.
4. Helps with treating psoriasis
Due to curcumin's natural anti-inflammatory properties, it is now known to help with treating the symptoms of psoriasis.
Patients who have psoriasis have elevated levels of "PhK", a certain type of protein that's associated with the disease. In the year 2000 researchers found that Curcumin could help to inhibit the activity of PhK and this caused a decrease in any of its symptoms.
Certain studies have also found oral Curcumin to be useful. In research from 2008, 12 patients with psoriasis were given 4.5 grams of an oral curcuminoid complex and two of them showed an 83-88% improvement in their symptoms. The researchers also suggested that even larger studies may show even more significant results.
5. Reduces Acne
As turmeric has natural oil-controlling properties, in 2013 researchers evaluated cream with turmeric extract on acne sufferers. They evaluated the amount of oil, and the sebum on the skin of the volunteers. They were then given cream with turmeric and others were given cream without.
Results showed that those using the regular cream experienced an increase in skin sebum (more oil production) beginning on the sixth week of the study. Those who used the turmeric cream however, experienced a reduction in skin oil starting from the fourth week.
Reduction was then found to have reached 25% by the end of the 10 week study period. While research is ongoing, there is evidence that adding turmeric to homemade masks can help to prevent acne breakouts, revealing fresh skin.
6. Fades Hyperpigmentation
Turmeric has been shown to affect melanin that's responsible for producing pigmentation in the skin. Melasma or too much melanin in the cheeks, chin and forehead can all create age spots when there is too much melanin in one location. The Curcumin in turmeric appears to block the activation of proteins that can increase and also regulate melanin production.
In one 2009 study, researchers also found that Curcumin while protecting from UV rays, also prevented pigmentation from forming, as caused by UV radiation. A study from 2013 also confirmed that Curcumin can inhibit "tyrosinase", an enzyme involved in producing melanin.
7. Reduces the risk of skin cancer
Numerous studies show that curcumin has anti-cancer activity and that this natural ingredient can help to slow or even shrink the growth of cancer cells and even tumours. That's why so many manufacturers want to add it to their sunscreen products. One notable study from 2011 involved researchers taking pretreated non-human test subjects with curcumin extract for 3 days.
They were then injected with skin cancer cells into the treated areas and the resuting tumours were measured. The test subjects that received the 15mg curcumin extract were found to have developer tumours much slower than the control test subjects without curcumin, whose tumour volume increased 2.3 times faster than those taking the curcumin extract.
All of the above are great reasons to include Curcumin into your diet as part of a healthy lifestyle. The trouble is that many Curcumin supplements are not rapidly absorbed into the bloodstream and so many people find they have to take enough Curcumin for it to be effective.
Recommended Examples
Curcuminx4000™ –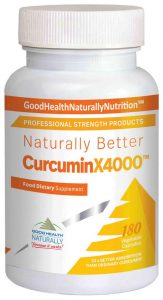 This contains 200mg of the Curcumin Phytosome which in a recent study has been shown to increase in utilisation by up to 45x compared with ordinary Curcumin 95%.
Curcumin's potent antioxidant abilities have numerous benefits and research suggests it may support antioxidant activity and the body's normal inflammatory response, along with the potential to support normal cholesterol levels while playing a significant role in contributing towards cardiovascular health, liver function and joint health.